P2P Trust Model
[Abstract]
With the in-depth researches of large scale distributed systems, such as Grid computing, Ubiquitous computing, P2P computing, Ad hoc networks, etc, system is a dynamic and cooperative model made up of multi-software serving. Under these dynamic and uncertainty environments, trust mechanism based on CA (certificate authority) in a regular PKI (pubic key infrastructure) can't adapt to these requirements. Adaptive reputation mechanisms have proven to be essential to enforcing cooperative behavior in open environments and become to a new and hot topic of security research for these new distributed applications. For trust is subjective and fuzzy, there are big differences in trust description, evaluation, reasoning and computing in recent trust model. However, current trust models make a number of simplifying assumptions that may not necessarily hold in real networks, such as either irrational or completely rational behavior, instant propagation of reputation information and homogeneity of interactions. We argue that dropping those assumptions and allowing more degrees of freedom is necessary in order to construct more realistic and richer reputation models. We support our argument by citing reputation research done in economics, evolutionary, psychology, biology, sociology and so on, and consider models that take into account adaptive behavior changes, co-evolution of behavior, bounded rationality, and so on. We focus on constructing more realistic and less constrained reputation models that can potentially lead to construction of more secure, responsive, and cooperative networks.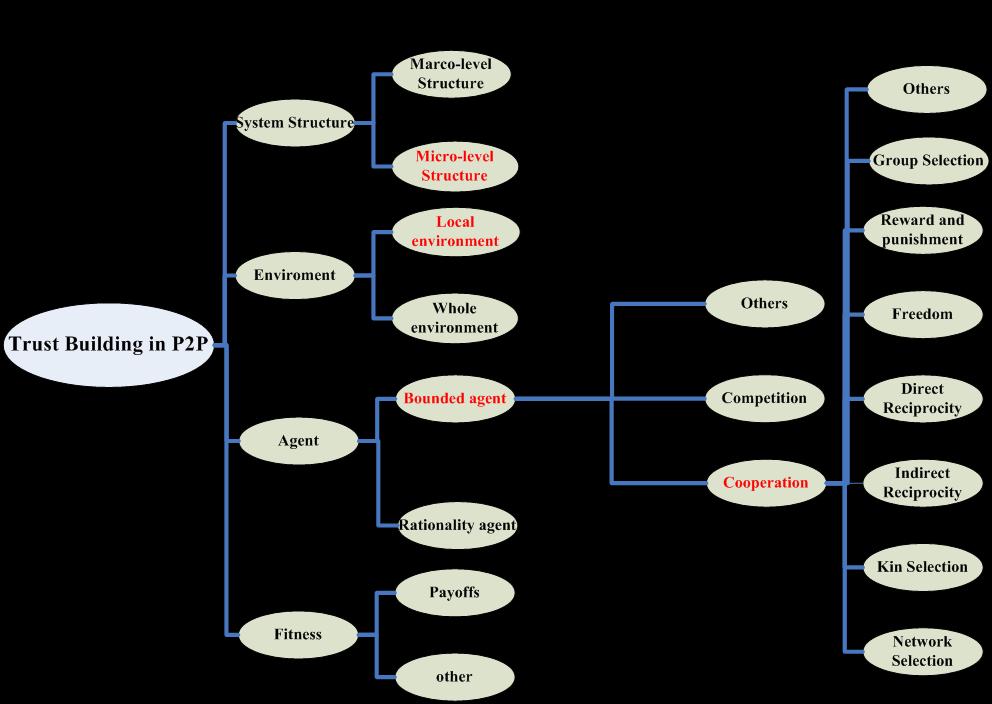 Yizhi Ren, Mingchu Li, Cheng Guo, Yongrui Cui, Kouichi Sakurai, Trust Similarity Measure in Trust Model for P2P Networks, Accepted by The 2008 IEEE/IFIP International Symposium on Trust, Security and Privacy for Pervasive Applications, to appear .
Mingchu Li, Yizhi Ren, Kouichi Sakurai, Yongrui Cui, Zhihui Wang. Granularity Considering in Trust Model for P2P Networks. Proceedings of the 22nd International Conference on Advanced Information Networking and Applications - FINA Workshops, pp.307-312, March 2008.
Mingchu Li, Yongrui Cui, Yizhi Ren, Yuan Tian. Intelligent Security Multi-agent Framework in Grid Computing. Proceedings of 2008 IEEE International Conference on Networking, Sensing and Control (ICNSC 2008), pp 1142-1147, April 2008.
Yongrui Cui, Mingchu Li, Yzhi Ren. A Scalable and Robust Reputation System for Grid (in Chinese). Accepted by Mini-Micro Systems [J].2008, to appear.
Mingchu Li, Bo Chen, Yizhi Ren. Modified Credential Chain Discovery Based On Trust-Worthiness (in Chinese). Accepted by Computer Engineering [J], to appear.
Yongrui Cui, Mingchu Li, Honggang Hu, Yizhi Ren. A Trustworthiness-Based Access Control Model for Grid Virtual Organizations (in Chinese). Accepted by Journal of Computer Science [J]. 2008, to appear.
Yizhi Ren,Mingchu Li,Cheng Guo,Yongrui Cui,Kouichi Sakurai . A Fine-grained Trust Model for P2P Networks. COMPUTER SECURITY SYMPOSIUM (CSS 2008), Okinawa, Japan.
Yizhi Ren, Mingchu Li, Cheng Guo, Yongrui Cui, Kouichi Sakurai. Stochastic Dynamics of Trust Structure in P2P Networks. Workshop among Asian Information Security Labs (AWIS 2008), Dalian, China.